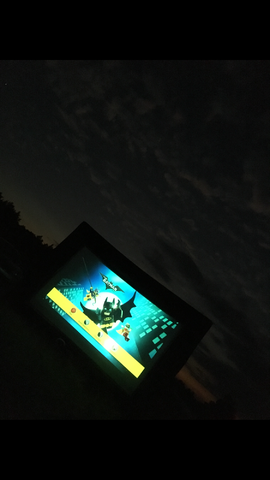 MOVIE SCEEN PACKAGE
It's a warm summer night.
Time for a double feature.

May the force be with you as you let the Inflatable Carnival bring the drive-in movie theater experience straight to your backyard party. No driving required and all of the social distancing you could want.

Here's an offer you can't refuse:
A large screen, back screen projector (no boxes or cords to trip on - pay no attention to that man behind the curtain) DVD player, and powered speakers bring you the ultimate movie experience. How about we throw in a popcorn machine, 20 bags of popcorn and 10 chairs? We are giving her all she's got, Captain!

Go ahead, make our day. You provide the DVDs. Will you run amok, amok, amok or venture off to
a whole new world? Frankly, Scarlett, we don't give a diddly doo.